By: DC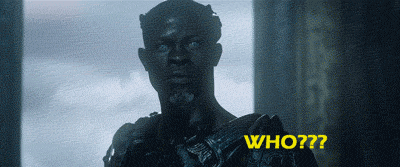 With the 4th season of Arrow fast approaching it would be best to get to know the season's new big bad, Damian Darhk, play by Neal McDonough. With only a brief mention in season three, Damian Darhk is shaping up to be one of Oliver Queen's deadliest enemies. But who was this character before becoming (Green) Arrow's newest antagonist? Below I'll provide an overview on this character's brief comic history, as well as what we could possibly expect from his character for the fourth-coming season of Arrow.
Darhk made his debut appearance in the first issue of Devin Grayson's 1999 run on Titans. During this run he only appeared for seven issues where he briefly acted as the leader of his own incarnation of H.I.V.E. (Hierarchy of International Vengeance and Extermination). It was during the Titans event, Immortal Coil (Titans #10-12), that he played a significant role in the series.
He is first seen revamping the criminal organization, H.I.V.E.  at the behest of his surrogate mother, the H.I.V.E. Mistress, who vehemently wants the death of all costumed heroes. With H.I.V.E under his control, he recruits random criminals into his organization in order to take on heroes like the Titans. Before Darhk could further his agenda he soon finds his organization at odds with Vandal Savage's super-villain team, Tartarus; a team consisting of Gorilla Grodd, Cheshire, Red Panzer, and Siren. Their goal is to capture the H.I.V.E. Mistress, whose blood contains the components needed for an immortality serum. It was at Darhk's floating H.I.V.E. fortress where Vandal Savage was successful in his endeavor. With the H.I.V.E. Mistress captured, it is revealed that she is Slade Wilson's—Deathstroke's ex-wife, Adeline Kane Wilson. Deathstroke, alongside the Titans soon barge in in hopes of stopping both of Darhk's and Vandal Savage's forces. Before Deathstroke could save Adeline Kane Wilson, Gorilla Grodd slits her throat. As chaos ensues between the three parties Darhk reveals that his island contains a thermo-nuclear bomb, which he drops on the country of Zandia, the country his fortress hovers over. With the Titan's distracted, Vandal Savage proceeds to stab Darhk as he and his team escapes the floating fortress. The Titans were able to successfully diffuse Darhk's bomb before it could land on Zandia, and as they regroup it is revealed that a weakened Darhk was able to absorb some of Adeline's blood, making him immortal—and that's the last he is ever seen in a comic.
During the Immortal Coil event, it could be seen how the character's Vandal Savage, Gorilla Grodd, and Deathstroke played an integral role alongside Damien Darhk. With these character's already showing up on Arrow, Flash, and Legends of Tomorrow, it could be entirely possible that this comic event could have some small influence over Damien Darhk's arc for the fourth season of Arrow.